Indian Government has announced a ban on 59 such Chinese apps, including Tik Tok. IT Ministry has decided to disallow the usage of these apps both in mobile and non-mobile Internet-enabled devices.
Here is the list of apps blocked by the government: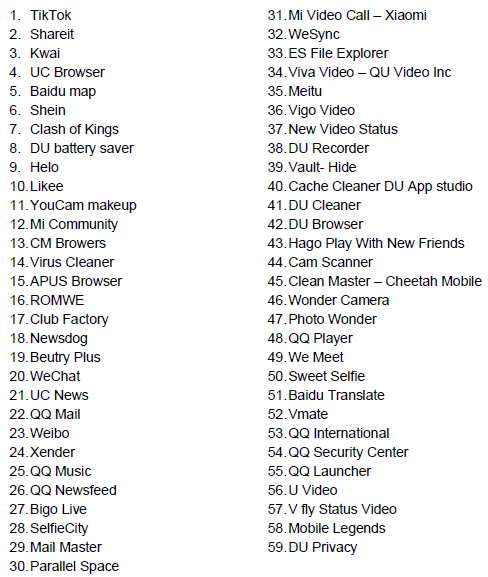 The government justified its move saying the apps were prejudicial to sovereignty, integrity and national security.
"The Ministry of Information Technology, invoking it's power under section 69A of the Information Technology Act read with the relevant provisions of the Information Technology (Procedure and Safeguards for Blocking of Access of Information by Public) Rules 2009 and in view of the emergent nature of threats has decided to block 59 apps since in view of information available they are engaged in activities which is prejudicial to sovereignty and integrity of India, defence of India, security of state and public order," the press release said.
Over the last few years, India has emerged as a leading innovator when it comes to technological advancements and a primary market in the digital space. At the same time, there have been concerns relating to data security and safe-guarding the privacy of 130 crore Indians, the Union ministry of electronics & IT said in a press release today.
"The Computer Emergency Response Team (CERT-IN) has also received many representations from citizens regarding security of data and breach of privacy impacting upon public order issues," the press release mentioned.
This decision came among the India-China clash at the borders on 15-06-2020. Tensions on the Indo-China border have spiked after 20 troops, including an Indian commanding officer, were killed in the face-off in Galwan valley.
For More Update keep visiting Sochme. Soon will come-up with the New post.